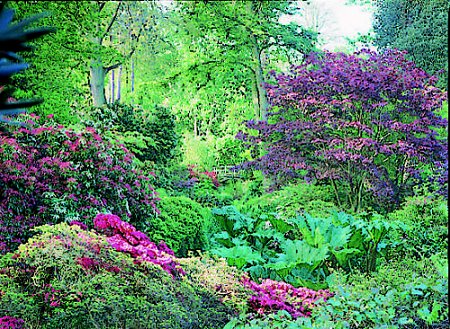 Ornamental Trees
( Catalog Date 2-16-2022 )
---
(

= Picture Link )
Cornus sanguinea ( Blood Twig Dogwood )
As a European exotic, this shrub grows in a large multi-stemmed form to 12 feet high and about 8 feet wide. It is most impressive in fall when foliage turns to dark blood red. Winter exposes attractive bare, purplish to dark red twigs and branches.
GROWING CONDITIONS:
Full Sun or Light Shade in cool climates
Shade in warm regions
Regular Watering
| | | |
| --- | --- | --- |
| SIZE | PRICE | CAT. NO. |
| 5 Gal. | $47.95 | 1SD-C-005C |
| 15 Gal. | $89.95 | 1SD-D-005C |
MATURE HEIGHT:
12 feet

GROWTH RATE:
Fast

GROWING SEASON
LEAF COLOR:
Dark Green

AUTUMN LEAF COLOR:
Dark Blood Red

SUNSET ZONE:
1-7

USDA ZONE*:
4

NORTHWEST NATIVE:
No

PICTURE LINK:
We're working on it
Prunus cistena ( Purple Leaf Sand Cherry )
( Dwarf Red-leaf Plum )
This ornamental is versatile as a small tree when trained into a single-trunk, developed from the shrub form. They are very attractive when used near a patio area in a landscape. Beauty can be enjoyed all through the growing season, from its pinkish-white spring flowers to its handsome foliage. The new leaf growth is an intense red-purple, maturing to a coppery purple.
GROWING CONDITIONS:
Full Sun
Moderate Water, well drained

FLOWERS:
Spring, Pinkish-white

FRUIT-BERRIES:
Summer, Blackish purple
| | | |
| --- | --- | --- |
| SIZE | PRICE | CAT. NO. |
| 5 Gal. | $37.50 | 1SD-C-001 |
| 15 Gal. | SOLD OUT | 1SD-D-001 |
MATURE HEIGHT:
6-10 feet

GROWTH RATE:
Moderate

GROWING SEASON
LEAF COLOR:
Red-Purple

AUTUMN LEAF COLOR:
Red-Purple

SUNSET ZONE:
A3; 1-22

USDA ZONE*:
2

NORTHWEST NATIVE:
No
*USDA HARDINESS ZONE CHART - USA (Click Here)
*USDA HARDINESS ZONE CHART - NORTHWEST (Click Here)


Evergreen / Conifer Trees (Abies to Picea)
Evergreen / Conifer Trees (Pinus to Sequoiadendron)
Deciduous Trees
Nut Trees
Deciduous Shrubs
Evergreen Shrubs
Perennials
Vegetables
TO: